BLAZE BAYLEY Live In Czech


By Daniel Höhr, European Correspondent
Tuesday, April 7, 2020 @ 10:02 AM


| | | |
| --- | --- | --- |
| | | |
BLAZE BAYLEY
Live In Czech
Blaze Bayley Recording, 2020




"Blaze Bayley? Is he still around?" That was pretty much my reaction when I saw Live in Czech up for review. I have to confess I lost sight of Blaze after the Silicon Messiah album (2000), which was one of my favourite albums that year and which I still love and regularly play. It had everything the IRON MAIDEN albums with Blaze Bayley as their frontman lacked – inspiration, a clear direction and originality. Quite why I didn't follow up on Blaze's career, I don't even know. I guess there were other artists and bands that interested me more.

So I read up on what's been happening on the Blaze front on Wikipedia, try to catch up with the work he's been doing all those years and finally play Live in Czech – and could kick myself for missing out on such great stuff in almost two decades of a musical career full of vicissitudes.

Blaze Blayley's Tour of the Eagle Spirit in 2019 spanned 59 shows and was certainly an amitious undertaking for a solo artist. The two final shows took place at the Melodka venue in Brno, Czech Republic on September 28 and 29, 2019. Those shows were filmed and recorded for the present live release, Live in Czech. Sadly, I only have the live album but not the actual footage of the shows, which I am dying to see.

An artist with such an impressive recording history as Blaze will have to make choices as far as the setlist is concerned and for this live release, Blaze picked 12 of the very best songs of his career since he joined IRON MAIDEN. There is a substantial amount of numbers from the Infinite Entanglement trilogy (2016, 2017, and 2018), selections from albums further back in his solo career and some favourites from his two albums with IRON MAIDEN, X-Factor and Virtual XI. His band is consists of musicians from British melodic metallers ABSOLVA, namely Christopher Appleton on guitar and backing vocals, Martin McNee on drums and Karl Schramm on bass and backing vocals.

Kicking off his setlist with "The Dark Side of Black", Blaze leaves no doubt that not only is he still up for it but also that he and his band seriously kick ass. This is British Heavy Metal at its best – stripped to the basics, breathtakingly virtuoso playing, raw energy being unleashed with every riff, and spot-on, straight in your face vocals. Blaze sounds as good as on his MAIDEN albums, if not better. The songs work extremely well live and the sound is powerful, heavy, dry but transparent with each instrument asserting its righful place in the mix, which was in the most capable hands of guitarist Christopher Appleton. You can hear the ever so supportive audience celebrating Blaze, clapping, shouting and singing along on each and every track. The atmosphere must have been boiling and the intensity of the two live shows comes across in an undiluted way on the recording.

The band with Blaze at the helm is as tight as a duck's arse. With all twelve tracks being absolute killers, it is impossible to single out any of them, but if "The World Is Turning The Wrong Way" and "Human" don't grab you by your nuts, nothing will. And yet my absolute favourite track on this live album is "Virus", recorded for the IRON MAIDEN compilation Best of The Beast. I always used to skip the track when playing that MAIDEN compilation because I never really liked it but the sheer living fire Blaze and his band are breathing into this song turn it into a monster of a live track – and the reaction of the audience is accordingly. Another outstanding highlight on Live in Czech is the title track of the first Blaze album after his forced departure from IRON MAIDEN: "Silicon Messiah". As with many of the songs on the Live in Czech setlist, there are two guitars on the original recording – played by two bloody good guitarists, for that matter. Chris Appleton is doing a hell of a job on one guitar – not once does the band sound thin or you think there is something missing (whether or not extra guitar parts were added afterwards, which is common practice, alas, I know not). "Silicon Messiah" is oozing with Heavy Metal power – what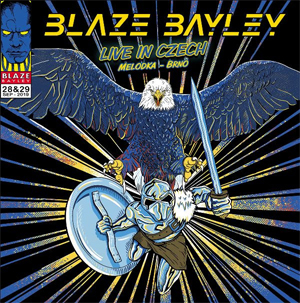 a great version of this landmark song for Blaze. And then there are also three MAIDEN songs at the end of the album. Former MAIDEN vocalists performing MAIDEN songs is an undertaking that can go horribly wrong – I heard Paul Di'Anno's band KILLERS (if I remember correctly) making a right mess of "Wrathchild" and other classics live at Wacken almost two decades ago. It does take more than just a MAIDEN singer to get a MAIDEN song across with credibility. Blaze Bayley's present band, however, hit the nail on the proverbial head and their renditions of "Man On The Edge", "Futureal" and "The Clansman" are spot on.
Blaze does talk quite a lot to his fans and reveals a lot about himself and his career, which has definitely seen some bad times as well. Thus the man behind the music becomes tangible and Live in Czech is not only an awesome Heavy Metal live album, it is also a personal testimony, whose message is 'Blaze is back'. And once this pandemic is over and the rock world returns to a normal life again, it would be great to see Blaze and his band on the big stages, because that's where they belong.
In the meantime, we have this live DVD and recording to enjoy. It is British Heavy Metal at its best, great singing, great playing, an awesome live experience altogether.
5.0 Out Of 5.0




Please log in to view RANTS

If you don't have a username, click here to create an account!