PARADISE LOST Obsidian


By Peter Atkinson, Contributor
Friday, May 15, 2020 @ 1:58 PM


| | | |
| --- | --- | --- |
| | | |
PARADISE LOST
Obsidian
Nuclear Blast Records




What a long, kinda strange trip it has been for U.K. vets PARADISE LOST. From doom/death and goth metal pioneers to electronic dance/radio rock curiosities before turning back in an ever-heavier direction that really coalesced on 2009's Faith Divide Us – Death Unites Us, the band has constantly pushed the envelope and moved the bar – for better or, sometimes, worse.

But when PARADISE LOST made a deliberate move to back to its roots with 2015's The Plague Within, it seemed to have really found its true identity. And the quintet has been on an encouraging roll ever since. Plague offered a well-rounded blend that played to the band's early strengths – equal parts gloomy slog, anthemic grandeur and even some all-out death metal bluster. 2017's Medusa, by contrast, was a more single-minded beast, its focus almost entirely on raw, aching doom – or "sheer Northern misery," as guitarist Gregor Mackintosh described it.

PARADISE LOST's newest offering Obsidian, its 16th full-length overall, opens the aperture once again, indeed, perhaps a bit wider than with Plague, allowing some of the band's later sonic dabblings a place at the table alongside the doom, drama and thunder. It makes for a winning approach and once again proves that going old school doesn't necessarily mean merely rehashing what once was.

Both Plague and Medusa saw the band take vintage ideals of the signature Gothic or Icon sound and push them in a fresh, more contemporary direction. In the same vein, Obsidian recalls the more accessible heft of the Draconian Times era, just before the band turned away from metal and embraced electronic/pop elements with 1997's One Second.

And even some of that can be found here, if only in the catchiness and dark romanticism – which often draws comparisons to SISTERS OF MERCY and, I guess, for good reason - of the opener "Darker Thoughts", the buoyant, groovy "Ghost", "Hope Dies Young" and "Forsaken". Yet despite their relative listener-friendliness, the beefy metallic backbone remains, built around the heaving riffs of Mackintosh and Aaron Eady and the stately rhythms of Stephen Edmondson and Waltteri Väyrynen.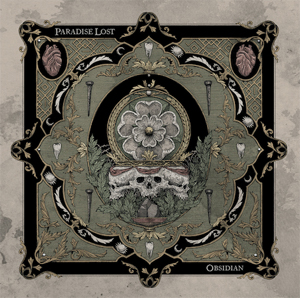 That contrast is accentuated by the dour lyrics and plaintive clean/cranky growl back and forth of frontman Nick Holmes, whose performance here is flawless. The awkwardness and off-key struggles of old are long gone, and he now a confident command to match his stoic, distant charisma.
The relatively polished sound on Obsidian gives the album an elegance that makes it seem all the grander, even at its heaviest – and it is unquestionably heavy, top to bottom. The more deliberate "Fall From Grace", the anthemic "Serenity" and monumental "The Devil Embraced" - the album's epic centerpiece - are majestic and airy, in stark contrast to the abrasive, almost suffocating density of Medusa, which should not meant as a knock.
Indeed, not much on Obsidian approaches the funereal tone of Medusa, save for the string-laden, but otherwise sparse "Ending Days" and the grim plod of the finale "Ravenghast" - or the quaking bonus track "Hear The Night", for those who pony up for a deluxe edition, which is warranted here. But there remains an ever-present gloomy veneer – thanks in large part to Holmes' despairing vocals - something that has been true of much of the band's best work. And I would certainly rate Obsidian among them.
4.5 Out Of 5.0

Please log in to view RANTS