DESTRUCTION Born To Thrash (Live In Germany)


By Daniel Höhr, European Correspondent
Wednesday, June 17, 2020 @ 6:45 AM


| | | |
| --- | --- | --- |
| | | |
DESTRUCTION
Born To Thrash (Live In Germany)
Nuclear Blast, 2020




It's become a bit of a commonplace in recent weeks and months that while live venues are closed and gigs are getting cancelled, live albums may at least partly make up for badly missed shows. And this – unusual times demand unusual measures – is exactly why German thrash veterans DESTRUCTION have decided to release Born To Thrash (Live In Germany) relatively spontaneously. Recorded at the Party San Metal Open Air in August 2019, the Germans leave nothing to be desired in terms of power, speed, and raw thrash metal energy. The quartet – guitarist Damir Eskic joined the then trio in early 2019 – showcased all the qualities of a seasoned live band with almost three decades of experience under their belts. The opening "Curse The Gods" sets the tone for the entire show/album: classic thrash performed with force, brutality, and utmost precision in a festival live setting with the band and the crowd on fire.

The festival gig documented on Born To Thrash took place only one day after the release of DESTRUCTION's latest studio album, Born To Perish. Surprisingly, the German thrashers played only two tracks off that album, namely the title track and "Betrayal". While there has been some whining about this, the overly critical reviewer may easily forget that the band performed a one-hour-set and with altogether 14 studio albums under the belt, sacrifices had to be made. So in addition to what was probably the very first live performance of "Born To Parish" and "Betrayal", Born To Thrash contains eight classic DESTRUCTION tracks that belong in any DESTRUCTION live set. The two new songs fit in really well with genuine classics such as "Total Disaster" and "Trash To Death". So what DESTRUCTION fans get here is a brilliant recording of a one-hour live performance of eight absolute highlights of the band's recording career plus the world premiere of two new tracks. This is definitely a plus and certainly not a reason to raise an eyebrow.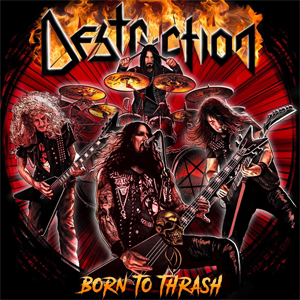 With monster riffs, high-velocity solo parts – check out the instrumental part in "Mad Butcher" – and an authentic live atmosphere, DESTRUCTION show what a no-frills live album should sound like. The band is heavily on fire and the four-piece are audibly enjoying themselves delivering high-octane performances of some of their very best material. The audience is also clearly audible between and sometimes during the songs, bassist and vocalist Marcel "Schmier" Schirmer takes every opportunity to heat up the crowd even more and the feeling of togetherness between band and crowd, which is part and parcel of any metal live experience, comes across really well on this album. This is of course also thanks to the crisp and powerful yet transparent live and recording sound – kudos to whoever was in charge of that (sadly, the digital promo does not include any information on the album and the personnel involved in its production whatsoever).
It is definitely live albums like Born To Thrash (Live In Germany) that will make this year's summer – without live shows the way we know and love them, without festivals, without moshing and headbanging in large crowds – more bearable. But even under normal circumstances it would be an awesome live album, not just for Destruction or thrash fans but for anybody who appreciates the experience of honest live music performed by seasoned musicians.
5.0 Out of 5.0

Please log in to view RANTS




RAT ROD Four On The Floor

GIRLSCHOOL WTFortyFive?

DANKO JONES Electric Sounds

AVATAR, ORBIT CULTURE, THE NATIVE HOWL In Houston, TX With Photos!

THE DEAD DAISIES In Hollywood, CA With Photos!

KILL DEVIL HILL Seas Of Oblivion

THE DEAD DAISIES In Ottawa, Canada

MAMMOTH WVH In Santa Ana, CA

UADA Crepuscule Natura

BARONESS Stone

KAMELOT, BATTLE BEAST, XANDRIA In Houston, TX With Photos!

CRYPTOPSY As Gomorrah Burns

RAY ALDER II

GHOST, AMON AMARTH In Houston, TX With Photos!

U.D.O. Touchdown

DETHKLOK Dethalbum IV

STEVE VAI In Ottawa, Canada

PANTERA, LAMB OF GOD In Houston, TX With Photos!

OVERKILL, EXHORDER, HEATHEN In Los Angeles With Photos!

PUPIL SLICER Blossom