BILLY IDOL
The Roadside EP
Dark Horse Records - 2021
http://www.billyidol.net




In the nearly 40 years since BILLY IDOL first hit it big as a solo artist, I've heard him singing hits like "Eyes Without A Face", "Rebel Yell", "White Wedding", "Dancing With Myself" and "Mony Mony" so many times that those songs are deeply ingrained in my memory, unlikely to ever be forgotten.

But despite being a fan of Idol's various pop singles, I've never owned any of his albums. So when I saw that the singer had a new song available, I was sure to check it out but I didn't have any concrete plans to actually buy the EP the song came from.

And then I watched the video for the song "Bitter Taste" on YouTube and found myself enjoying it immensely. Now I knew that I had to pick up The Roadside EP because not only did I love the song, but I wanted to hear what else Idol had in store for listeners.

The Roadside EP features just four songs but what the release may lack in quantity, it more than makes up for in quality. While BILLY IDOL's longtime guitarist STEVE STEVENS is alongside for the ride, BUTCH WALKER has a big part to play as well. He produced the album, co-wrote two of the songs with Idol and Stevens and played a lot of the music for the recording as well.

The EP opens up with the raucously rocking "Rita Hayworth". The track takes a look at the dark side of pursuing fame in Hollywood and despite the subject matter being less than a glowing depiction of "becoming a star", the musical performance as well as BILLY IDOL's vocal take made the song into a riotously entertaining number.

The aformentioned "Bitter Taste" takes a turn for a slightly less frenetic pacing but still manages to be a bit lively as it switches between a midtempo groove and a slightly higher gear over the course of the song. Whether it is specific to the song's lyrical content or the way Idol shades his performance of said lyrics, there is a melancholic or bittersweet feel to the vocals. But that's not to say it is a detraction in my eyes. Rather, it gives a nice twist to the material and makes it that much more of an easy sell to me.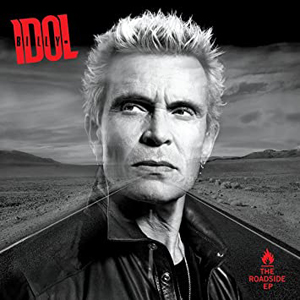 The last two songs on the album were co-written by BILLY IDOL, STEVE STEVENS and BUTCH WALKER and like the first two songs, these tracks are quite different from each other.
On "U Don't Have To Kiss Me Like That" you get a rollicking rock and roll number with BILLY IDOL portraying a guy trying to talk a woman into hooking up. Well, at least that's what I took away from the lyrics anyway. But regardless of whatever the lyrics mean or might mean, this is a damn fine rock song.
"Baby Put Your Clothes Back On" stays pretty much on course with its mid-to-uptempo pacing all the way through. The song has a really inviting vibe to the music and I loved the way Idol's vocals came out on the track. What really got me was as I read the lyrics in the brief booklet that comes with the CD, you couldn't really be sure where this song was going. You could interpret the lyrics in two different ways. One is relatively harmless but I swear a different read could make this a really sinister type of song as well. Since I lack the ability to read minds, I'm fine with thinking the lyrics are of the "relatively harmless" variety.
While I've established that I'm by no means an expert on the BILLY IDOL catalog, I have to say that I was surprised to be blown away by what I got to listen to on this EP. The Roadside EP is such an entertaining listen that the only knock on it is that, like me, you will end up wishing it had been longer.
5.0 Out Of 5.0