MASSACRE Resurgence


By Peter Atkinson, Contributor
Thursday, October 21, 2021 @ 7:34 AM


| | | |
| --- | --- | --- |
| | | |
MASSACRE
Resurgence
Nuclear Blast Records




Jeez. Where to even start with these guys?

For a band that made such an indelible stamp on the formative years of death metal 30-some years ago, MASSACRE has been more soap opera than going concern ever since, with so many stops, starts, bad career moves and other bullshit that its once revered name has become something of a running joke.

After issuing the legendary From Beyond album in 1991 and equally monumental Inhuman Condition EP in 1992, MASSACRE split up and reformed more than a half-dozen times and cycled through more than two-dozen members – with many leaving and rejoining on several occasions. And for all that, the band only had the lamentable 1996 album Promise - and its ill-advised foray into groove metal and inexplicable CONCRETE BLONDE cover - to show for all the turmoil until 2014.

The past decade has certainly been active for the band, but, again, not in a particularly good way, having been marked by one series of dramatic – or more like "dram-edic" – events after another. Original guitarist Rick Rozz and many-time bassist Terry Butler – also of DEATH and SIX FEET UNDER, now with OBITUARY – reformed MASSACRE in 2011 with drummer Mike Mazzonetto and frontman Ed Webb. This lineup finally managed to release a legit, if rather lazy, follow up to From Beyond with 2014's Back From Beyond via Century Media – only to split up several months later.

Rozz and long-time vocalist Kam Lee then tried to reform the band in 2016 as MASSACRE X, in recognition of it being the 10th line-up, which is probably not something anyone should be bragging about. But original drummer Bill Andrews threatened legal action over the use of the name, so they opted to go out as GODS OF DEATH and stuck with that until 2019 when a court ruled Lee had legal rights to the MASSACRE name. About the time, one-time bassist Michael Borders rejoined, but then Rozz and Mazzonetto left.

Their replacements, Taylor Nordberg and Jeramie Kling, also of THE ABSENCE, lasted about a year until they too quit rather publicly and acrimoniously. The pair quickly formed INHUMAN CONDITION with Butler, taking with them not only material they had written for a new MASSACRE album but co-opting their band's name from the 1992 EP and "borrowing" MASSACRE's logo font in the process. INHUMAN CONDITION's debut Rat°God was issued last June – with Rozz contributing some leads. So much for not burning bridges with one's former employer!

Undaunted by the slew of defections and legal matters, Lee went on to round up a veritable death metal super-group for the latest MASSACRE lineup using the vast array of contacts he established with his myriad other projects. Lee and Borders have been joined – at least in the studio - by Swedish guitarists Rogga Johansson (PAGANIZER, MEGASCAVENGER and a dozen or so other bands) and Jonny Pettersson (WOMBBATH, etc.), British lead guitarist Scott Fairfax (MEMORIAM, AS THE WORLD DIES) and Norwegian drummer Brynjar Helgetun (CRYPTICUS).

The result is the aptly titled Resurgence, the debut from this version of MASSACRE and the fourth from the band in whatever shape or form overall. This veteran collective, buoyed by the familiarity from most of the members having played together at one time or another, shows its worth here by giving the album a welcome spark even if some of the tunes aren't particularly remarkable.

But where Back From Beyond aimed to simply replicate the aesthetic of MASSACRE's brief From Beyond heyday – sound, artwork, what have you – Resurgence takes things forward, or at least doesn't spend so much time dwelling in the past. The sound is fresher and more vibrant here than last time around – which none of the current participants played a part in - while retaining the brutal chug and churn of old. Promise II this thankfully is not. Nor is it From Beyond III, and that's a good thing since INHUMAN CONDITION essentially beat MASSACRE to the punch in that regard.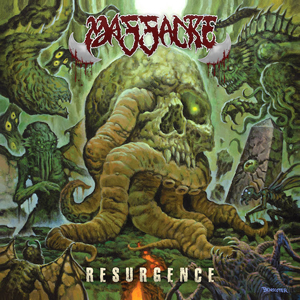 Sure, plenty of vintage motifs remain. Resurgence is steeped in Lovecraftian tropes, Lee's burly growls are as gnarly as ever and the music is old school death metal through and through. But this incarnation of MASSACRE doesn't dwell so much on the ominous dramatics of the From Beyond era, instead keeping the energy level consistently high with surging riffs riding Helgetun's steady gallop and leaving the arrangements relatively straight-forward – with the odd doomy forays or chanted verses, as on "The Whisperer in Darkness", adding some contrast and depth.
Indeed, the songs can sometimes be simple to a fault, and there is a sameness or even lameness to some of the material – for instance, "Spawn Of The Succubus" - that a bit more complexity or atmosphere might have averted. But when the band really hits stride, as with the thunderous trifecta of "Into The Far-Off Void", "Servants Of Discord" and "Fate Of The Elder Gods", that hardly matters.
The vehement, purposeful delivery and dynamic flourishes - twisty-turn dive-bomb solos, nimble guitar harmonies – offer plenty of death metal thrills and chills and show the band isn't simply going through the motions for the sake of nostalgia. The wall of sound mix also gives it all plenty of contemporary heft.
But is Resurgence enough to restore MASSACRE's sullied name and reputation? Probably not, given all that has gone into the "sullying" process over the years. It's certainly a solid, inspired effort, and a step in the right direction, but the band still has a ways to go to prove its continued worth – and history is not on its side in that regard.
3.0 Out Of 5.0

Please log in to view RANTS