BLACK STONE CHERRY, THE GEORGIA THUNDERBOLTS In Nashville, TN With Photos!


By Junkman, On-Air Personality
Monday, May 2, 2022 @ 10:50 AM


| | | |
| --- | --- | --- |
| | | At Skydeck At Assembly Hall On 4-8-22 |
All Photos By Junkman
Recently, I journeyed down to Nashville, Tennessee to gather in the sights, foods, and specifically the sounds of "Music City" as well as see some old friends. As for the sights and foods, they became secondary as this city didn't get their nickname by accident. Funny though, all these senses came together in one place - Assembly Hall at the corner of 5th and Broadway in downtown Nashville. The first two floors of Assembly Hall are a food court. You can get just about anything for any palate known to mankind. And, as I became a fan of, on level 3 there is "Skydeck", a full on entertainment lounge, complete with a stage and great lighting and sound equipment, as well as one of the best views of the downtown area.
This scene was THE scene for a performance of two of today's hottest rock bands that really represent a "new wave of Southern rock". BLACK STONE CHERRY has been around awhile, and has put out seven studio albums and more. They have toured all over the world and performed for a number of years as one of my favorite live acts since I first saw them at a festival way back in 2006. This show had been scheduled this past November, but was postponed due to a member of the band contracting Covid, so I was pumped and ready.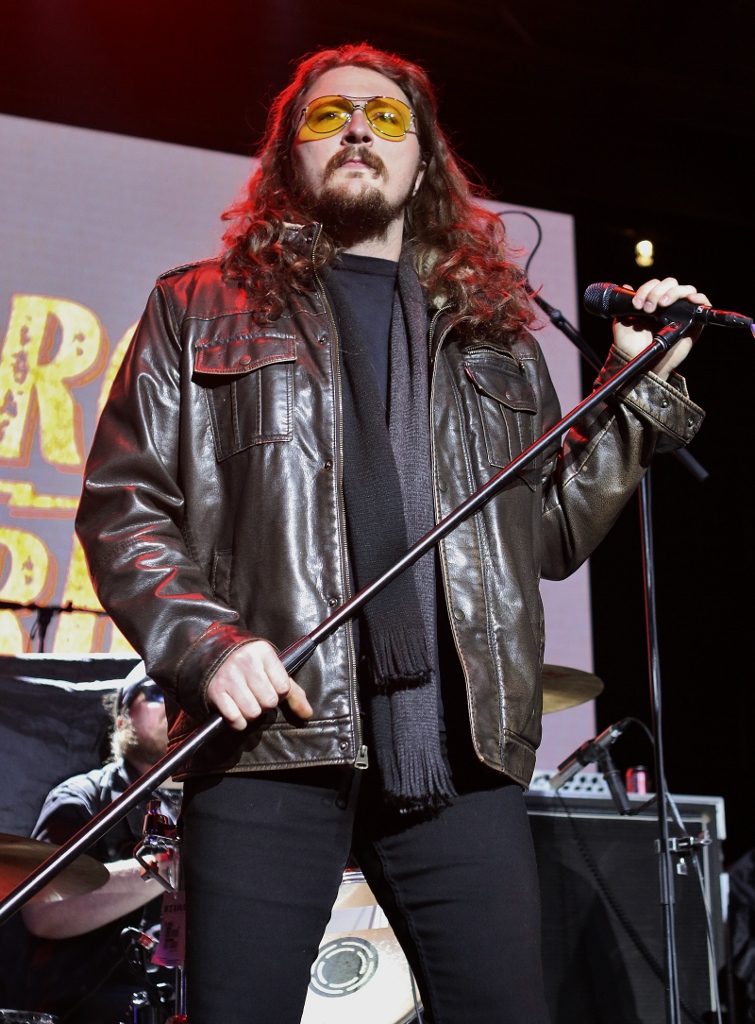 I was also very excited to see the opening act. Since I first became aware of THE GEORGIA THUNDERBOLTS I have been a fan. They did not disappoint. I see them as the leaders in the new generation of Southern Rock. They are young and hungry, with great songs. As for their performance, it was exactly what I was hoping for and more. Led by the presence of their outstanding singer TJ Lyle, they tore through a thirteen song set, spotlighting songs from their debut LP Can We Get a Witness along with a couple of cool cover songs. Standouts included my favorite track of theirs, the party friendly "It's Alright", the good timey "Looking For An Old Friend" and their first single "Lend a Hand" which closed the set.
Guitarists Riley Couzzort and Logan Tolbert really drive the band, with their phat bluesy riffs, and brought new insight into the afore mentioned covers of BAD COMPANY's classic "Rock Steady" and, what seemed like a natural for the band, a great version of LYNYRD SKYNYRD's "Needle And The Spoon". To say that this band is very reminiscent of a young SKYNYRD would be an understatement. But, unlike others in the past, that have been compared to those legends, this band stands on their own, musically and song -wise. Bassist Zach Everett and drummer Bristol Perry provide the low end, and just like any good rhythm section, they are right "in the pocket" song after song. Again, I was very impressed, and I encourage you to check them out at www.georgiathunderbolts.com.
BLACK STONE CHERRY, back on the road to support their latest LP, 2020's The Human Condition, welcomed a hearty crowd that braved the chilly rooftop with a fifteen song set that spanned their career. Opening with "Me And Mary Jane" from 2014's Magic Mountain release, the band came out swinging. Lead singer/guitarist Chris Robertson, he of the powerful, meaty vocals, belted it out with force. Sporting a beanie to keep out the Tennessee evening breeze, he heated up onstage and led the band through some rocking interpretations of some of their latest songs, "Again" and "Ringin' in My Head" (which the band recently released a video for) as well as some BSC classics like "Blind Man" and the catchy "Blame It On The Boom-Boom". They also brought it down a bit for their bluesy rendition of Tracy Chapman's "Give Me One Reason".
Guitarist Ben Wells was his usually frantic self onstage. He is in constant motion, bouncing up and down, from one end of the stage to the next, all the while cranking his killer guitar tone, to a loyal legion of fans, many whom travelled from the bands home state of Kentucky to support their hero's. Also in town was guitarist Jared James Nichols, who joined that band onstage for an absolutely explosive version of the HOWLIN' WOLF classic "Evil" that brought the energy level in the crowd from excited to frantic.
Drummer John Fred Young is one of the hardest hitting drummers I have ever seen. His drum solo after the band rocked "Cheaper To Drink Alone" literally had the bottles behind the bar falling off the shelf. His incredible chops and flashiness combined with super powerful and intricate time signatures separate him from many other drummers on the circuit. Besides being one of the nicest people I've ever met, the guy is a total bad-ass onstage behind his kit. Locked in with bassist Steve Jewell (who proudly announced that he was from the booming metropolis of Horse Cave, Kentucky…) they make quite a thunderous rhythm section.
BLACK STONE CHERRY finished their set with the crowd pleaser "White Trash Millionaire" that did just that- pleased the crowd, who roared their approval, and would not let the band leave until they came out and rocked them into the Nashville night with the old school "Lonely Train" from the band's 2006 self-titled debut release. Everyone in the crowd seemed to be equally thrilled, and there were lots of "high-fives" and glass clinking among the crowds that clearly enjoyed the show. The merchandise booths were doing a brisk business all evening to go along with the brisk night air on the roof that both bands just blew the top off of with a fine evening of Southern Style rock n roll. Just like the famous Nashville Hot Chicken, it was tasty, and well done.
Check out some more photos from the show!
All Photos By Junkman

Please log in to view RANTS



TOM KEIFER, L.A. GUNS, FASTER PUSSYCAT In Houston, TX With Photos!

CAVALERA In Los Angeles With Photos!

JACK STARR'S BURNING STARR Souls Of The Innocent

HAUNT Windows Of Your Heart

PHIL LYNOTT Songs For While I'm Away/THIN LIZZY The Boys Are Back In Town [Live]

FOREIGNER In The Woodlands, TX With Photos!

OCEANS OF SLUMBER In Houston, TX With Photos!

SINNER Brotherhood

ORIGIN Chaosmos

CLASSLESS ACT Welcome To The Show

MICHAEL SCHENKER GROUP Universal

SUFFOCATION, ATHEIST, CONTRARIAN, SOREPTION In Los Angeles With Photos!

DOWNSET Maintain

PROJECT RESURRECT False Reality

DEF LEPPARD Diamond Star Halos

TED NUGENT Detroit Muscle

KREATOR Hate Über Alles

DESTRUCTION, NERVOSA, SUNLORD, VX36 In Los Angeles With Photos!

ASTRONOID Radiant Bloom

EMISSARY The Wretched Masquerade

TESTAMENT, EXODUS And DEATH ANGEL In Portland, OR With Photos!

HYPOCRISY, CARACH ANGREN, THE AGONIST, HIDEOUS DIVINITY In Los Angeles, CA With Photos!

DECAPITATED Cancer Culture

GWAR The New Dark Ages

SEPTICFLESH Modern Primitive

CHUCK WRIGHT Chuck Wright's Sheltering Sky

MARK TREMONTI Mark Tremonti Sings Frank Sinatra

BON JOVI In Austin, TX With Photos!