OCTOBER NOIR Letters To Existence

By Andrew Depedro, Ottawa Corespondent
Thursday, October 12, 2023 @ 9:31 AM

| | | |
| --- | --- | --- |
| | | |
OCTOBER NOIR
Letters To Existence
Self-Released




Love!
Pain!
Loss!
Death!
And a strong DIY work ethic!

Formed in Pensacola, Florida in 2017 by frontman/bassist Tom Noir, OCTOBER NOIR are a fairly young band on the goth rock/metal scene who aren't afraid of getting their hands a little bloodied. Along with drummer Tyler Fleming, keyboardist Doug Lane and guitarist Trey Ozinga, OCTOBER NOIR weave a uniquely intricate sound that combines elements of synthy eighties rock with a more modern, metal twist that's heavy on the TYPE O NEGATIVE sound. Pretty damn heavy to be specific as you could jumble up the tracklists from any of their first three studio releases along with the entire TON catalogue and you'd be well-pressed to tell Noir and the late great Peter Steele apart throughout the listening process. But with that aside, the quartet also takes its influences from THE CURE, MY DYING BRIDE, LYCIA, DANZIG, and THE SISTERS OF MERCY in order to create a thundering, deep, and dark resonance that can only be understood through listening. With their latest album Letters To Existence, they've gone to some great lengths in taking control of their own script.

Simultaneously inspiring, uplifting, and yet full of doom, Letters To Existence sounds like you are transported back to the 80s in a deeply spiritual way. This album takes you on a journey all the way from its most dark, thundering moments, to lighter, perhaps even pop-y moments. Opening with the instrumental track "Spring" with its mellow-sounding intro before cascading into a storm of heaviness, the album showcases the really special, nostalgic quality to OCTOBER NOIR's music. Follow-up number "Endless Lonely" boasts a metallic riff-heavy take and its "quintessential Tom Noir ballad" takes us through a sense of yearning, and feature those powerhouse, raspy vocals we all know well from doom and goth rock. Only four songs later, the group takes on an upbeat, melodic sound that is reminiscent of THE CURE's "Friday I'm In Love" times two in terms of duration in fan favorite "Clench" midway through the album, clocking in at almost 8 and a half minutes.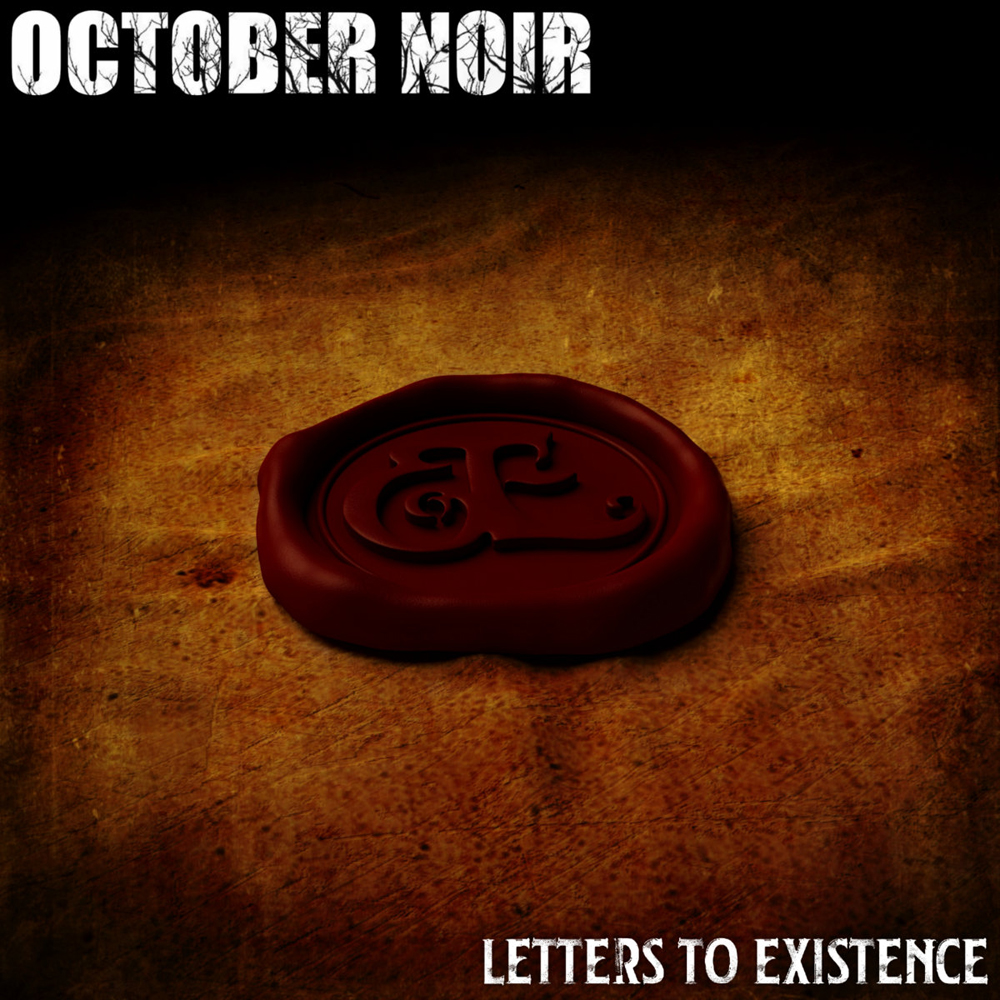 Letters To Existence also features a link to many easter eggs with samples from readings of Dante's Inferno in "A Halo Hung From Horns", as well as nods to many other legends throughout history; you could almost picture the scene in which Johnny Depp's character Edward Scissorhands is running for his life through the pastel-colored suburban nightmare to escape the angry mob to this song. "For Honor" has been described by band members as "the most transparently 80s sounding track off the album". Drummer Tyler Fleming describes it as the band's "DEF LEPPARD song" for its heavy metal influence. And at the same time, in the words of keyboardist Doug Lane, it's "gut-wrenching and torturously emotional slog in the best possible way". And special attention and credit should be given to "Forever Haunt" featuring the operatic vocal talents of Russian-Israeli musician Nadia Kodes duetting with Tom Noir on this ethereal yet disturbingly uplifting track, not to mention some clever wordplay throughout other tracks such as "Deja View" and "She's Gone".
It all comes to a perfect end with the final instrumental track "Winter" - a deeply emotional ending that plays off colorful and melodic tones before arriving at the bleakness of winter and the album's end that leaves us wanting more.
The comparisons to Peter Steele's legendary industrial goth metal band can tend to weigh a TON-er, ton on OCTOBER NOIR on occasion but the quartet have otherwise weathered a storm with an album that takes listeners on a journey through the seasons of life, and in turn, of the human experience with Letters To Existence.
4.5 Out Of 5.0
https://www.facebook.com/OctoberNoirMusic/
https://www.instagram.com/octobernoir/
https://www.octobernoir.org/