All Photos By Travis Failey Photography
Article Contributions By Chrissy Lynn

The weather was perfect for a show, cool and breezy. OCC features a museum, food, and alcohol all while providing an optimal venue that features some of the best music in the bay. I would highly recommend this venue for what seems like an intimate rock show. The tickets were "totally" 1986 prices at only $15. Of course, you had to pay a few bucks more for a VIP ticket.

AON (ALL OR NOTHING), is a hard rock band featuring vocalist Brett Carlise, Ian Smith on bass, Skylar McCain on drums, and Jacob Mann on guitar. The band took the stage promptly at 5. I know, it's early for a rock show but it was a Sunday, and I guess OCC wanted to get the fans home early. AON proceeded to play, from what I counted, there were 13 songs! I couldn't believe how talented vocalist Brett Carlise is.

I guess that's on me because Brett is the current singer for GREAT WHITE. The band shredded for 59 minutes. They did a cover of MOTLEY CRUE's "Live Wire", but while a brave choice, the music was just as manic as the original, and Brett sang that song better than Vince Neil ever did. They also tackled "Whole Lotta Rosie" by AC/DC which was one of the best covers I have ever heard.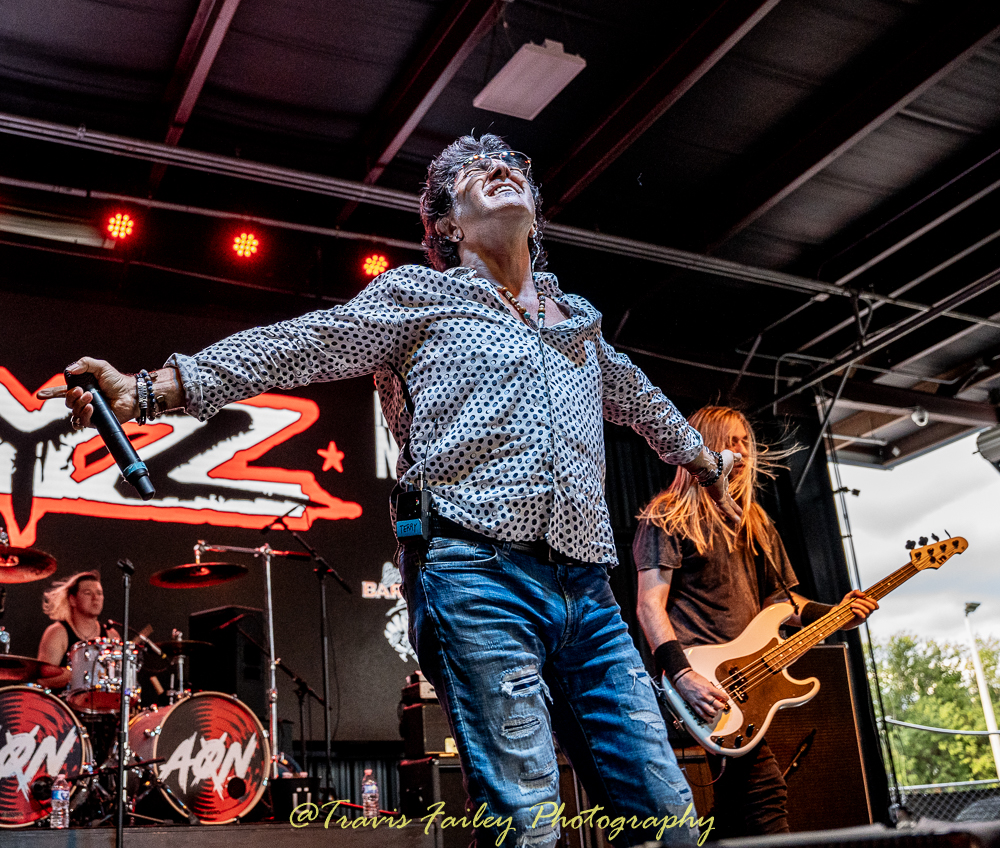 After AON played and woke everyone up, there was a one-minute "break" and then Ian Smith, Skylar McCain, and Jacob Mann got back on the stage and played a45-minute set with XYZ. XYZ featured its original vocalist, Terry Ilous, who also was the lead singer for GREAT WHITE for nearly a decade.
Terry, vocally, hasn't lost a thing. It was no surprise to me that he has had a successful career as a frontman, but I was surprised to learn that Ilous also had an expansive career doing voiceovers and jingles, as well as being an accomplished session singer who worked with artists like GUNS N' ROSES, AC/DC, and David Bowie, just to name a few.
Ilous came onto the stage, and you instantly knew you were in for a treat. He got the crowd going and XYZ played a nine-song set. Fun fact, did you know that Don Dokken produced XYZ's first self-titled album? Neither did I. They started off with "Maggy" and ended with their big 1989 hit "Inside Out". After "Inside Out" the crowd was primed for George Lynch.
After XYZ's set, there was another 15-minute break, and then Smith, McCain, and Mann got BACK on the stage for a third time. Brett and Terry took turns at the vocals, and George Lynch proceeded to play a non-stop parade of DOKKEN hits. Yes, you read that correctly, two lead singers of GREAT WHITE on the same stage on the same day, singing DOKKEN songs with both of them not named Jack Russell or Don Dokken. It seemed a bit strange, but it worked in spades.
They started with "Kiss of Death" and then "Lightning Strikes Again" with Carlisle absolutely nailing these songs better than Don has in 25 years. Carlisle was also fully recovered from traveling from Kansas that very morning after playing a show with GREAT WHITE the night before. He is a rockstar and one of the best up-and-coming singers I have ever seen. No backing tracks or computers needed. Pure talent.
Carlisle stepped off the stage then Ilous joined the band for "The Hunter" and "Breaking The Chains" with Carlisle going out to the crowd with a microphone for the fans to join in during the chorus of "It's Not Love". This gave the fans the opportunity to say that they sang with George Lynch in concert. It was a special moment for the older fans and even the kids that were in attendance.
Terry then introduced a new song that has over half a million views in "Dead Or Alive" which is hands down one of the best rock songs that you probably haven't listened to. It's that good and even better live.
Carlisle then joined Ilous and his AON bandmates and George of course for "Alone Again" and concluded with the only LYNCH MOB track in "Wicked Sensation". One thing is for sure, George Lynch is in great shape and still shreds despite being a young 69. He truly looks like he is having a great time on stage with the young bucks and his friend Terry.
After the band took their bows, everyone left the OCC Roadhouse with a smile on their face, and you have to give Victor and the guys at the venue huge props for how everything went so smoothly and also the guys in AON and their versatility. I didn't even realize until later in the sets that guitarist Jacob Mann played for three hours straight while wearing a walking boot on his right foot. It's the kind you wear when you break your ankle or something to that effect. He's only 21 and was trading off shredding with George like he was George himself. It was very impressive.
It was refreshing to see the young musicians who are the future of rock while also enjoying 80's rockers, George Lynch and Terry Ilous. I would highly recommend seeing this show if it comes to your town but only if you can handle a three-hour musical marathon with limited breaks and of course a "Wicked Sensation".
Check out some more photos from the show!
All Photos By Travis Failey Photography